NEWS: DJ Khaled to Host the NextUp Online Music Competition Presented by Orbiiit.com and WorldScout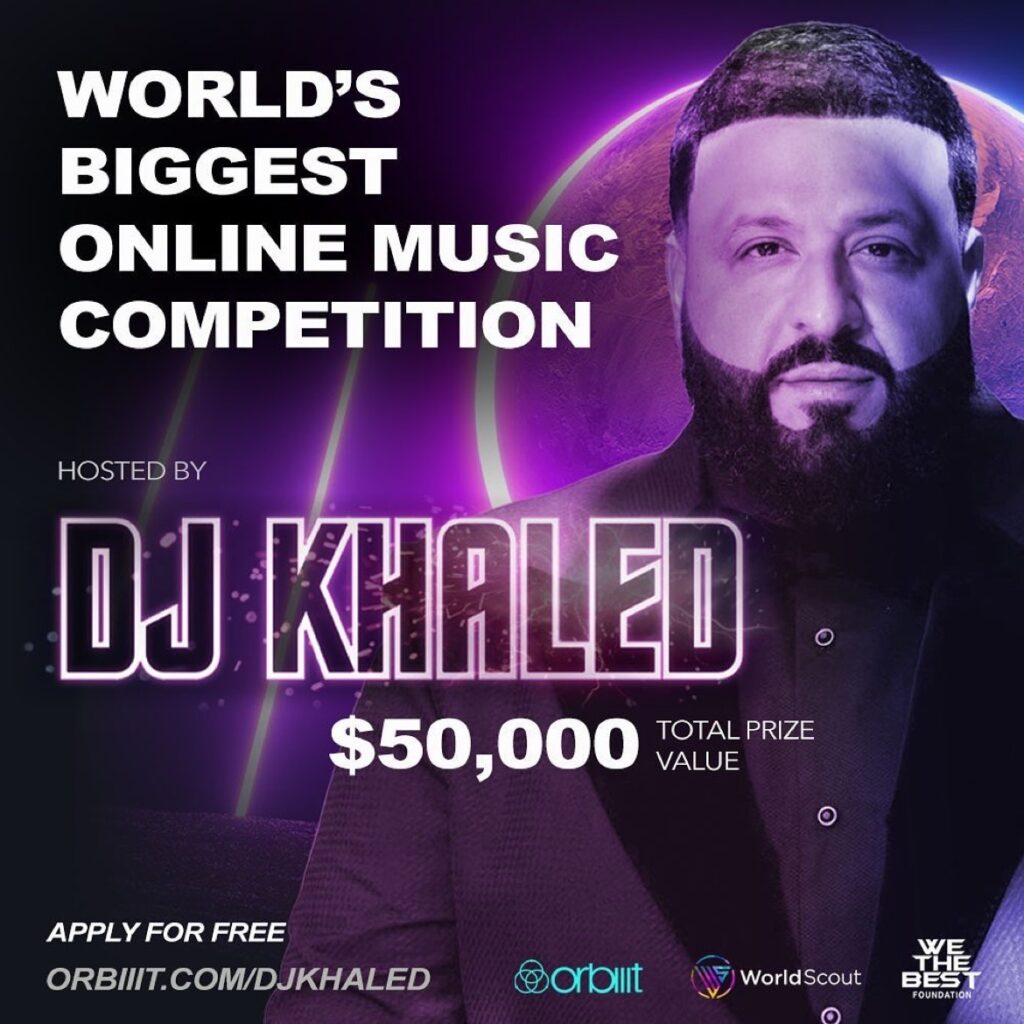 The world's biggest online music competition hosted by Grammy winning producer DJ Khaled is live and open for submission! The NextUp Online Music Competition, powered by Orbiiit.com and WorldScout, has teamed up with DJ Khaled to search for the best new artists, songwriters, and producers around the globe. Open to all genres, this exciting competition allows artists to showcase their talents to a global network, build a bigger fan base and be seen by music industry heavyweights. With Orbiiit's virtual platform, contestants will be able to submit their music through Orbiiit.com/djkhaled for a chance to win a prize package valued at $50,000. The 1st place winner takes home $25,000 cash, a one-on-one Zoom meeting with DJ Khaled, and an all expenses paid trip to Europe for a video shoot at the Schloss Buckeburg Castle. With a heavy hitter panel, 2nd and 3rd place contestants will receive a consultation via Zoom with prominent industry leaders like Lenny S. (Senior Vice President, Roc Nation,), Jeff Juin (EVP A&R and Creative, Warner Records), Steve Lobel (Hip-Hop icon and Artist Manager), and house music legend DJ Todd Terry (Founder of InHouse Records/Freeze Records).
Aspiring artists can submit their music up until 3pm PDT on June 2, 2022 before the public voting starts. It's free to enter and free to place your vote, however, voters will have the option of placing paid Power Votes to boost their favorite artist. A portion of proceeds will also be donated to DJ Khaled's We The Best Foundation.
Orbiiit.com's CEO, Nader Navabi added, "Every online competition is an opportunity for up-and-coming individuals to show their presence to the global community, build more fan base, earn more exposure, win cash and career prizes and most importantly be seen by major industry leaders – all for free."
Commenting on the 'Next Up Online Music Competition', Cindy Cooper, CEO, WorldScout Group, LLC stated,"We're really excited about another collaboration with Orbiiit. This is a huge opportunity for up-and-coming artists and music creators. The prize package is off the chain, but this opportunity is also about exposure to major industry decision-makers and stepping up their hustle and self-promotional skills- both of which will make or break a new artist."

Website: WorldScout Orbiiit Corporate Marketing Partner