VIDEO: Miranda Writes – Ball So Hard Featuring Majesty Da Rebel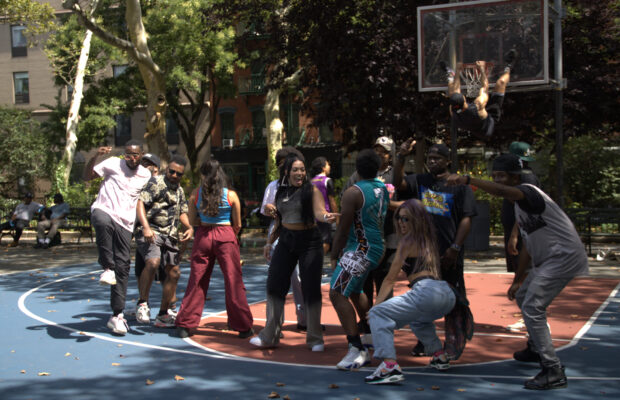 October 6, 2023; New York City, NY – Step onto the court and feel the rhythm take hold as MCs Miranda Writes and MajestyDaRebel join forces in their explosive new collaboration, Ball So Hard. This electrifying Pop-Hip-Hop dance track is set to shake up the scene, delivering a vibrant tribute to the heart and soul of New York City's basketball culture, is out now and available on all DSPs. The accompanying music video for "Ball So Hard" is available now on YouTube
With production helmed by the talented Trizolini, "Ball So Hard" is a sonic journey that seamlessly blends the infectious beats of pop with the raw lyricism of Hip Hop. As an official emcee for the iconic Harlem Globetrotters, Miranda Writes brings unparalleled energy and passion to the track, ensuring that listeners are swept up in the exhilarating atmosphere from the very first note.

But "Ball So Hard" is more than just a catchy tune. It's a celebration, a homagé to the enduring connection between basketball and Hip Hop. Miranda Writes, driven by a desire to honor Hip Hop's 50th anniversary, sought to create a song that encapsulates the shared roots and evolution of these two cultural powerhouses. The result is an anthem that unites music and sports in a way that is both innovative and deeply resonant.
Miranda Writes and MajestyDaRebel, both hailing from the bustling streets of New York, bring their unique perspectives and experiences to the table. Their seamless collaboration is a testament to the city's vibrant artistic landscape, where talent and creativity thrive. Through their distinct styles and undeniable chemistry, the duo effortlessly navigates the highs and lows of the track, delivering verses that are as thought-provoking as they are infectious.

Supported by Trizolini's masterful production, the music bed for "Ball So Hard" is a sonic ride that connects listeners to the heart of NYC's basketball courts.
The pulsating beats and infectious melodies serve as the perfect backdrop to Miranda Writes and MajestyDaRebel's razor-sharp lyricism, painting a vivid picture of the grit and determination that define both Hip Hop and basketball.

It's a unique experience, this explosive combination of Miranda Writes and MajestyDaRebel in "Ball So Hard." This is more than just a song – it's a celebration of the cultural forces that have shaped the world we live in. From the inner-city playgrounds to international stages, Hip Hop and basketball have left an indelible mark.

With "Ball So Hard," Miranda Writes and MajestyDaRebel pay homage to these legacies as they forge a path of their own, this is one of those tracks that's as captivating as it is unforgettable.
Check out the awesome review in Hype Magazine and for more information on Miranda or to book the multi-faceted rising star, please contact [email protected]