VIDEO: ELEKTROHORSE – BOOT SCOOT BOOGIE SLIDEVIDEO: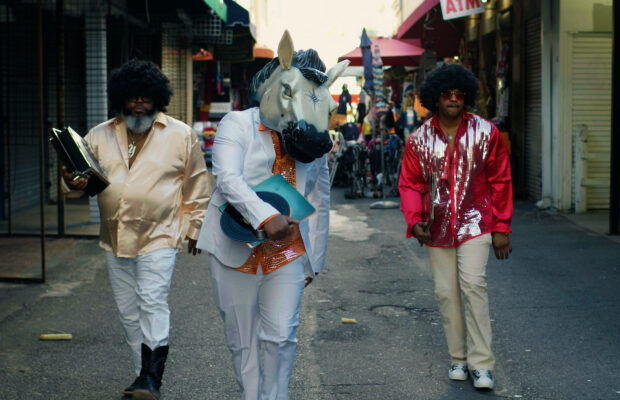 ELEKTROHORSE IS ABOUT TO HAVE THE WORLD SLIDING IN BOOTS
Few artists worldwide understand the quarter-century trend of dance-ready hip-hop and pop-aimed country music than Chicago-born Elektrohorse.
The creator of the "CDM" (country dance music) subgenre's Midwestern roots are as much based within Chicago's renowned and rowdy hip-hop and house scenes as they are in country's mainstream styles — which now also prominently err in those directions.
"Boot Scoot Boogie Slide" highlights the trio of Chicago-born Elektrohorse, Louisiana Zydeco star S. Dott and bluesy deep Southern soul-stirrer Big Yayo successfully navigating the floor-filling territory of country-meets-hip-hop line dancing. From Nashville's Lower Broadway to Las Vegas' National Finals Rodeo and beyond, sounds familiar to the threesome are redefining the meaning of the timeless "urban cowboy" trend.
Big Yayo's a multiple award-winning veteran producer occupying a pop-friendly lane familiar to the intersection of classic R&B and rock, which lends itself well to dusty dancefloors where his songs like "Bedroom Rodeo" and "Cowgirl" are popular. S. Dott (known for viral hit "Slow Wind") is rooted in a central Louisiana area where musical roots blend blues, country, jazz, R&B, and rock in an often-unexpected manner. Those grooves combine with Big Yayo and Elektrohorse's styles to create a sound that mixes well with line-dance favorites familiar to the country music marketplace.
As for Elektrohorse, he's cosigned by generations of country rap groundbreakers, including Blanco Brown and Cowboy Troy — plus fellow genre-fusing producers Timbaland and Will.I.Am — he's making CDM (country dance music) a world-renowned trend.
The track itself features a walking bassline familiar to danceable country anthems like Dolly Parton's "9 to 5" and vocals recalling the legacy of multiple classic funk hits. Finish it with a timeless style that leans toward jazzy, soulful vibes in the vein of everyone from Ray Charles to Cee-Lo Green and beyond. "Boot Scoot Boogie Slide" celebrates a fun, familiar sound, sure to impress.
Moreover, he has been cosigned by country rap groundbreaker Cowboy Troy and fellow genre-fusing producers Timbaland and Will.I.Am. Plus, he's appeared on tracks with the likes of Blanco Brown, Nicki Minaj, and Old Dominion.
For the past half-decade, he's achieved radio-charting success with line-dance favorites, including the "Ride Like a Horse," "Suga' n Spice," "Try," plus the 2021-released track "The Ho Down." And now it's the "Boot Scoot Boogie Slide,".
"I see music as a way of bringing people together, of being a source of unity," Elektrohorse says. "Currently, country music has an atmosphere of cooperation and musical interest working well together."
You can look no further than his trademark light-up horsehead and expect entertainment to follow. From Nashville's Lower Broadway to Las Vegas' National Finals Rodeo — and all stops in between — Elektrohorse is a taste making DJ and dancefloor fixture redefining "urban cowboy" culture in country music.